Panama is one of the easiest and most affordable countries to get into and gain permanent residency for South Africans. With current tensions rising high and uncertain times ahead, South Africans are beginning to think of ways to secure their future and strategize their escape routes.
The Friendly Nations Visa makes it possible for South Africans, and many other expats, to live and work in Panama. By expressing financial and economic ties to Panama, your permanent residency application can be approved within 6 months- it´s simply that easy.
If you are a retiree and receiving a pension, you could qualify for the Pensionado Visa which also grants you the right to live in Panama.
Panama is the fastest growing economy in the Americas and is a global hub attracting many international entrepreneurs eager to capitalize on these opportunities. Their use of the territorial tax system also attracts many expats from around the world seeking a tax haven. Panama´s public and private investments remain high while unemployment rates remain low- 6% compared to South Africa´s staggering 27% (International Labour Organization).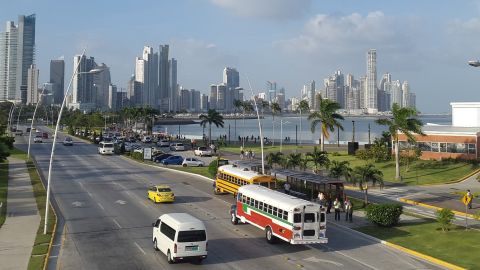 A glimpse of Panama City
Not yet ready to commit to moving across the world? No problem, visit Panama and start your application in just 2 weeks, and return 3-6 months (or stay and explore the beautiful landscapes Panama has to offer) later to complete the process. Once you have permanent residency, Panama requires very little time on the ground. Spend a couple of days here every two years and your permanent residency will remain active. If you do choose to spend time here, you will find many South Africans, Americans, Canadians, Australians, and Europeans who have fallen in love with Panama and have never returned to their home country.
South Africa is a beautiful country and it may be hard to say your goodbyes. But for many of you, receiving permanent residency is not just a plan b or an escape route if needed, immigrating has become a reality. Safety is one of the biggest issues and concerns and Panama offers political and economic stability as well as low crime rates. The Institute for Economics and Peace published the Global Peace Index of 2018, where they have ranked 163 countries in terms of global safety. Their ranking system is based on 23 factors including levels of safety and security in society, murder rates, political terror, and deaths from internal conflict. South Africa ranked 124 whereas Panama ranked 50 of the 163 countries.
Residents have found the comfort, safety and warm climate of Panama irresistible and with Panama´s open borders approach, cities and towns alike are bursting with multicultural vibes.  There´s much to do and explore, from beaches and mountains to rainforests and cosmopolitan cities, whatever your desire is, Panama is sure to have it.
Panama has put together the most appealing programs offering special benefits for foreign residents and retirees, however, keep in mind that all visa applications must be made through a Panamanian attorney. To find out more please contact us at info@kraemerlaw.com.
---
Related pages: