Panama stands out among the world's expat and retiree destinations. This country offers solid infrastructure, modern amenities, beautiful landscapes and enjoyable tropical weather.
Panama is a regular favorite in International Living's Annual Global Retirement Index since 2016.
We know that the decision to change your country of residence is never easy. There's a lot to consider and in the end, you want to make sure that you're making the right decision. This article aims to help you choose the best place for you and your family in Panama.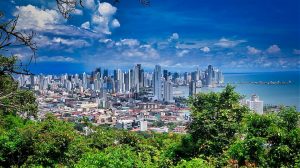 Panama City Skyline
Panama City
If you love the big city lifestyle and cannot live without First World amenities, you should consider living in Panama City.
The capital offers everything; from beach resorts and golf clubs to shopping malls, restaurants, cinemas, metro, clinics etc. What's more, you can rent a beautiful ocean-view apartment in the city center for as little as $1,500 a month.
One thing to keep in mind is that the weather in Panama City is hot and humid all year round.
El Valle
City bustle is not really your thing and you prefer to be closer to nature? Look at El Valle, which is one of the most popular retirement destinations with more than 200 resident expats. This beautiful, green village is located only 1.5h away from Panama City. 
Because of its higher elevation El Valle boasts an all-season mild springtime climate, with the maximum average around 29*C.
Chiriqui
Looking for cool weather, mountain slopes, coffee plantations and a large expat retirement community? The Chiriqui area is the best destination for you.
You can choose between the popular among tourists Boquete – here you may find a wide array of thing to do: fishing, hiking, bird watching, art and cultural events – you won´t be bored here at all.
Or you can also pick Volcan, which is cheaper and perfect for those who are seeking the quiet, mountain town way of life. This district is located about 6h away from Panama City and only 20min from David, which is the second biggest city in Panama.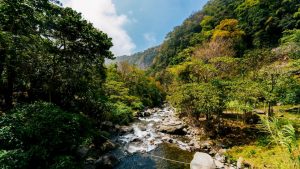 Volcan, river between trees
Coronado
Are you dreaming about beach life, but at the same time want to stay close to the city? Check out Coronado, which is one of the favorite city-break destinations for many Panamanians.
This gorgeous, calm coastline is located only an hour's drive from Panama City, which makes it close enough to visit the capital every time you need it.
Coronado has the second largest expat community in Panama (Boquete is the first one), so you won't have a problem making new friends or speaking English here
Bocas del Toro
Maybe you imagine your retirement lying on a hammock under the shade of palm trees, while also being close to a diverse multi-national community?
Bocas del Toro is a place where you can shop at an organic market, take yoga classes, dine in beautiful restaurants, walk on the beach and meet lots of interesting people.
You will quickly find out that almost everyone speaks English; maybe you will even join one of the local music bands?
Bocas del Toro is a place where everyone can find something to be, something to do…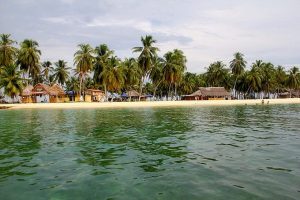 Bocas del Toro
Do you think any of these places sound like your future home? Contact us to discuss your case and provide you with the right legal assistance to make your relocation dreams come true.
---
Related pages: