Biography
Marcos Kraemer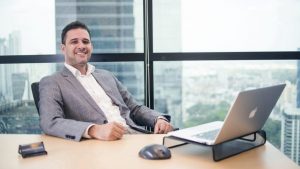 My name is Marcos Kraemer. I am an attorney duly registered at the Attorney's Register List of the Supreme Court of Justice of Panama, a member of the Panama National Bar Association, the Inter-American Bar Associacion, the American Immigration Lawyers Association, the International Fiscal Association the Association of European Lawyers, The Lawyer Network and Founding Member of the Panamanian Immigration Law Association.
I obtained my Law Degree in 2006, and started my sole legal practice in 2007. In July 2008 I incorporated Kraemer & Kraemer, in order to practice law with my company, which is also registered at the Public Registry of Panama, and with the Law Firm's Register List of the Supreme Court of Justice of Panama.
As a dual citizen (of Panama and Brazil), and after living as an exchange student in the United States, I have always been interested in immigration matters, reason for which I started my practice providing immigration legal assistance.
Panama has always been a country providing services to foreign persons and entities, through the Colon Free Zone, the International Banking System, and the Panama Canal. Besides, Panama has been also targeted as an international retirement country in the last decades. For these reasons, Kraemer & Kraemer provides all legal services related to industries such as: Business Law, Tax Law, Real Estate Law, Asset Protection Structures, and Banking Introduction Services.
Today, Kraemer & Kraemer is equipped with a team of legal assistants and with vast knowledge of our legal system. We focus our legal practice both in Panama City and in David, Chiriqui; being most of our clients either foreign retirees or investors, as well as small through mid size local and foreign businesses.
---
Education
Languages:

Spanish, Portuguese and English.

Education:

Master in Business Administration. Ulacit University, Panama (2008)
Law Degree. National University of Panama, Panama (2006)
English Courses. Northern Virginia Community College, USA (2004)
Elementary and High School. State School Paraná, Brazil (1998)
---
Credentials
Licenses:

Attorney License, accredited by the Supreme Court of Justice of Panama
Mediator License, accredited by the Government and Justice Ministry of Panama
Translator License: Spanish-English
Translator License: Portuguese-Spanish

Member:
---
<! -- close #post-id-->